The Day Celebrity Died and Resurrected on Facebook
June 25, 2009
It's been a bunch of hours now since the news broke of Farah Fawcett and Michael Jackson's deaths. I've been glued to Facebook and Twitter like they were the opening ceremonies of the Beijing Summer Olympics. I even got a call from my mother, being the saint that she is, to pray for them.
This unprecedented activity on both social networks was instigated by news websites reporting unconfirmed gossip that, in the end, was true. The frenzy of condolences, humor, and plain confusion from users mimicked a public rally of a swarm of voices all yelling at once. Who's voice was the loudest? Well of course it was the next buzz worthy gossip: the death of Jeff Goldblum and Harrison Ford, too! (As of writing this, Jeff and Harrison are alive and well.)
When Farah's death was confirmed, there was minimal activity on Facebook with respect to my 500 something friends. When Michael's death was announced and confirmed a few hours later, the Facebook activity was phenomenal. Personal messages of grief and witty remarks of humor blended into a surreal home page where I could not distinguish friends who were genuinely upset from friends who were simply playing around with another piece of entertainment news.
The day a celebrity dies social media must commit to a resurrection. After Heath Ledger and Natasha Richardson's publicized deaths, I thought "I can't handle social media's expressions of grief anymore". I have all but confirmed my personal feelings with today's news of two celebrity deaths followed by two more unconfirmed.
My Facebook and Twitter home pages are bombarded by news of terrible tragedies. I grow accustom to the information and experience each stage of grief and loss in less than half an hour. I get pissed off when someone disturbs this feed with unrelated information like a new mobile picture of a cat. Then I realize the absurdity of my attention span and revert to blogging about my suffering.
So the moral of the story is that Facebook and Twitter feeds are organized chaos. It's a sea of voices that, unfortunately, individually manage to hook my attention. Each second I spend on each voice adds up to minutes and then suddenly I realize I've been refreshing my feeds for an hour. An hour of "RIP MJ" and "I'll miss you, King of Pop" and "this is a sad day" has numbed me. This sea of voices also reminds me of a sculpture I created titled Tagged 4.0, which you can see below: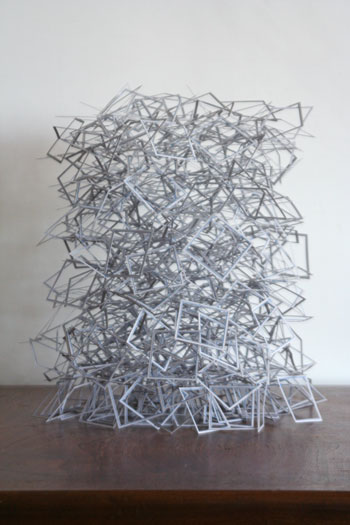 Tagged 4.0
2008
paper
each square is 1 3/4″ squared (4.46cm squared)
13″ x 12″ x 12″ (33.0cm x 30.5cm x 30.5cm)
The artwork reveals a ton of iconic Facebook photo 'tags' in a beautifully organized yet chaotic mess. Each tag climbs on top of another, pushing other tags out and down, just to be heard at the top of a social ladder. It becomes a hypnotic experience to weave your eyes in and out of each square much like my eyes wandered throughout my social media feeds this afternoon.
Posted in celebrity, day in the life | Tagged art, facebook, farah fawcett, harrison ford, jeff goldblum, michael jackson, social media, tmz, Twitter |